Page 2 of 2
84000 series
This is the series Tamiya mostly used for limited edition items (models and parts) during the years 2000-2015. By the end of 2016, Tamiya stopped using the series, but surprisingly, this happened to be a brutal decision: several limited edition models currently under production and sale had to be "transfered" to the new 47300 series (seen before). This rush for unknown reasons had a side effect: some models exist under two different references but are strictly identical.
As a side note, the Porsche 934 RSR 40th Anniversary is not the last model of the series: the TFR102 Black Edition is, but it is listed in the TRF kits article.
84023
M-03R Blue Plated Chassis Kit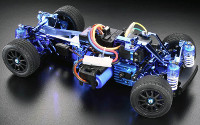 84031
F103RM with T Body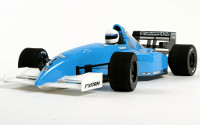 84032
F103RM with L Body
84056
F103 15Th Anniversary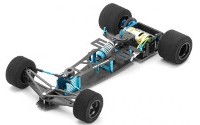 84057
Black Porsche 934 TamTech Gear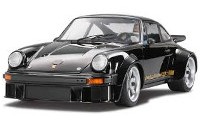 84059
XB Porsche 911 GT3 Cup Car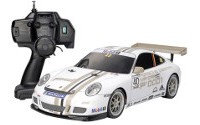 84060
XB Volkswagen Golf GTI Red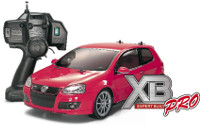 84061
XB Volkswagen Golf GTI Black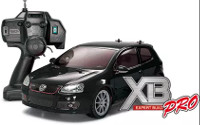 84062
XB Lamborghini Countach White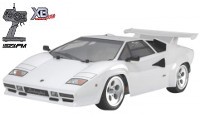 84063
XB Lamborghini Countach Yellow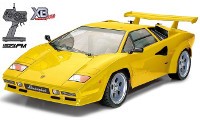 84071
Jeep Wrangler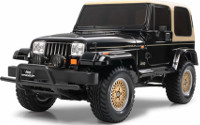 84100
DB-01R Chassis Kit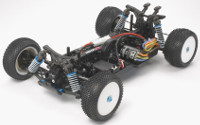 84105
TamTech Gear Buggy Champ Blue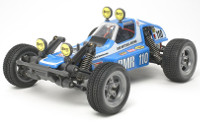 84106
F104 PRO Lightweight Body Spec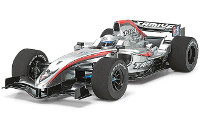 84109
TB-03R Chassis Kit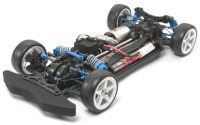 84111 Tyrrell P34 Six Wheeler
1976 Japan GP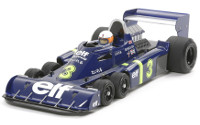 84122
Lotus Type 79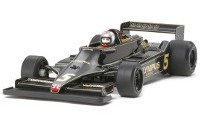 84124
Wolf WR1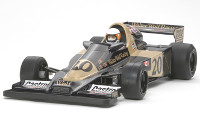 84131
M-05 PRO Blue Plated Version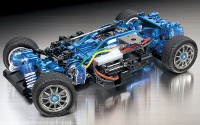 84132
TA-05 VDF Drift Chassis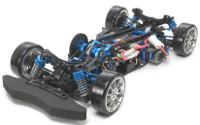 84134
84134 XB Alfa Romeo Mito Yellow
84315
84134 XB Alfa Romeo Mito Black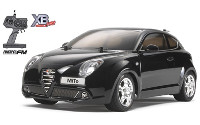 84136
84134 XB Alfa Romeo Mito Silver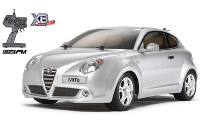 84141
Mach GoGoGo Shaken 408R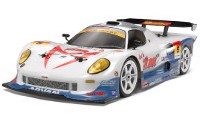 84159
TA05 ver II R Chassis Kit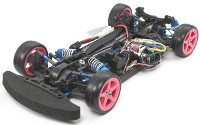 84161
XB Ferrari F60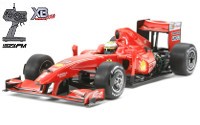 84162
Buggy Champ Gold Edition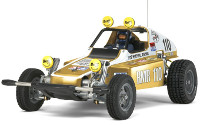 84163
XB Buggy Champ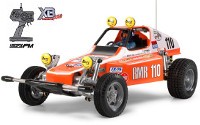 84164
XB Sand Scorcher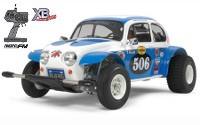 84165 XB Tyrrell P34 Six Wheeler
1976 Japan GP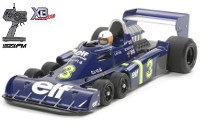 84170
F104 PRO Black Special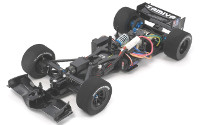 84183 Mini Cooper Finished Body
with Union Jack Sticker M-05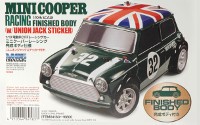 84187
Buggy Champ Silver Edition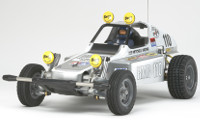 84188 TA-05 VDF
Drift Chassis Kit Gold Edition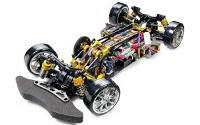 84191
Lotus 99T Honda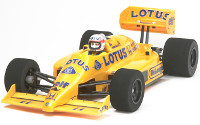 84192
McLaren MP4/5B Honda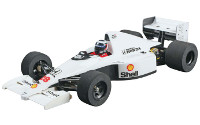 84193
McLaren MP4/6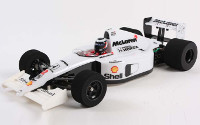 84194
Ferrari 643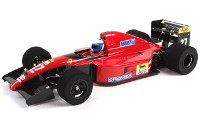 84203
F104X1 Chassis Kit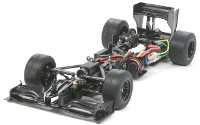 84204
M05 S Spec Chassis Kit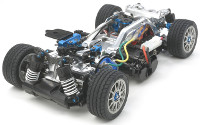 84205
TB-03 VDS Drift Spec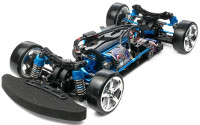 84212
Holiday Buggy Red Edition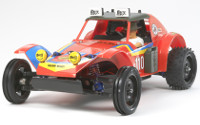 84213
Ferrari F60 Kit Black Special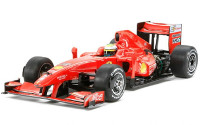 84214
XB Team Lotus Type 79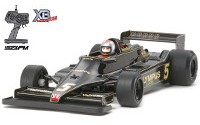 84215
XB Ferrari 643 F1 91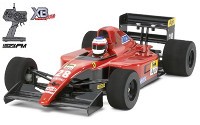 84227
Renault 5 Turbo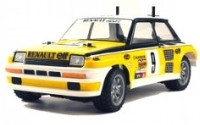 84228
HKS Opel Vectra JTCC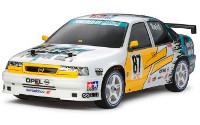 84235
Opel Calibra V6 DTM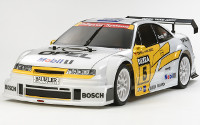 84237
Subaru Brat Metallic Special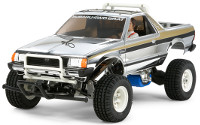 84255
TA-05 M-Four Chassis Kit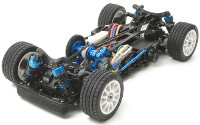 84260 XB Tyrrell P34 Six Wheeler
1977 Monaco GP
84262
F104W GP Edition with Body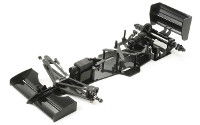 84263 Tyrrell P34 Six Wheeler
1977 Monaco GP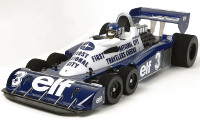 84264 Nissan R91CP
'92 Daytona Winner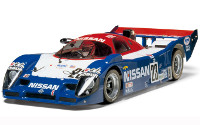 84265
Hotshot Metallic Special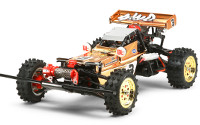 84266
Toyota GT One TS020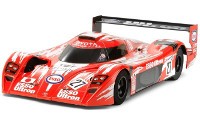 84267
Nissan Silvia S15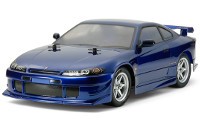 84268
XB Nissan Silvia S15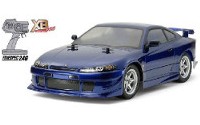 84270
Avante Black Special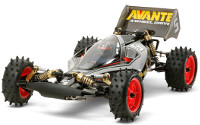 84275
TA-05 ver.II Gold Chassis Kit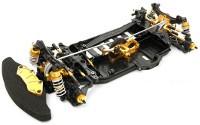 84287
Team Lotus Type 102B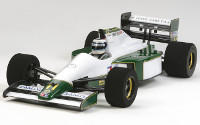 84288
FF-03R Chassis Kit
84294
TA-05 VDF II Drift Chassis Kit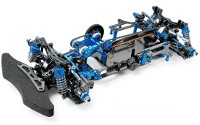 84312
M-06R Chassis Kit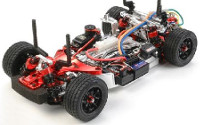 84316 (47308)
Volkswagen Golf Mk.1 Grp 2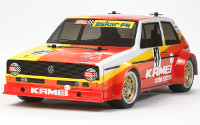 84319
Unimog 406 Wheelie Green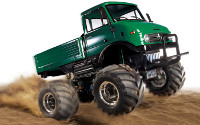 84320
Unimog 406 Wheelie Blue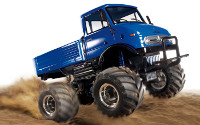 84321
Unimog 406 Wheelie Yellow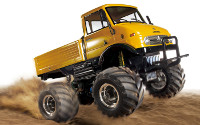 84322
Unimog 406 Wheelie Red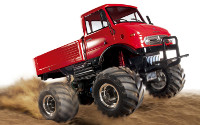 84328
TamTech Gear Jimny SJ30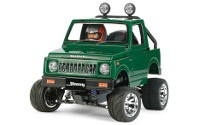 84329
Datsun 280ZX Custom Street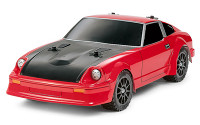 84330 TA-06 PRO
44mm Double Cardan Joint Shaft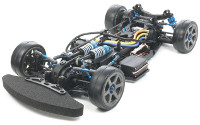 84331 (47348)
Grasshopper Candy Green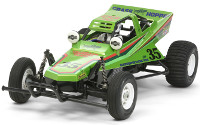 84335
RM-01X Chassis Kit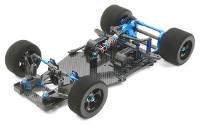 84336
F104 Ver.II PRO Black Special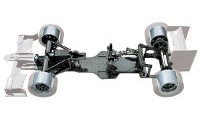 84339
TB-04 PRO Chassis Kit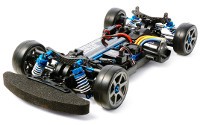 84352
TA-06 MS Chassis Kit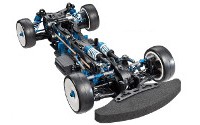 84354
FF-03 EVO Chassis Kit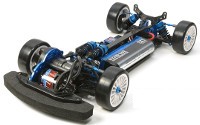 84356
XB F2012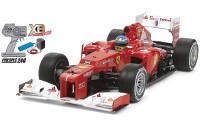 84359
M-05 Chassis Kit Gold Edition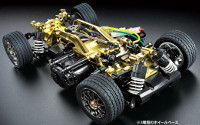 84369
DB-01 RR Chassis Kit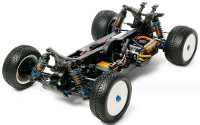 84370
DF-03 MS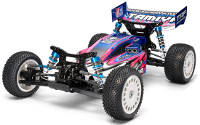 84373 Volkswagen Type 2 T1
Wheelie Custom Version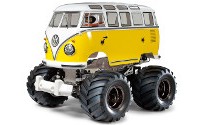 84375 (47349)
XV-01 Long Damper Spec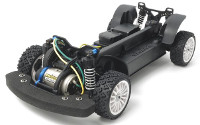 84377
Aero Avante Red Metallic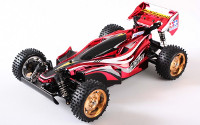 84378
TA-06 R Chassis Kit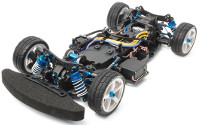 84379
TB EVO 6 Chassis Kit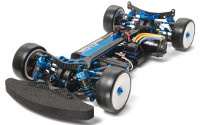 84382
TB-04 PRO II Chassis Kit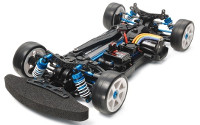 84383
The Hornet Black Metallic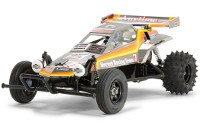 84384
XB The Hornet Black Metallic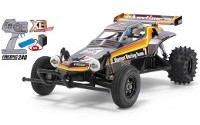 84385
Honda NSX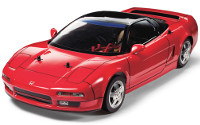 84387
Neo Scorcher Bright Pink Metallic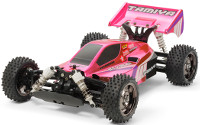 84389 (47304)
Fighting Buggy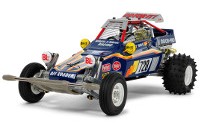 84394
FF-04 EVO Chassis Kit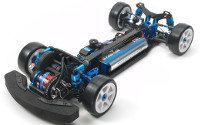 84399 (47321)
Porsche 911 GT2 Racing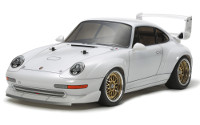 84400
Dark Impact White Version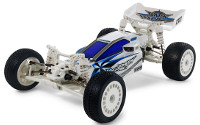 84401 Toyota FJ Cruiser
Orange Painted Body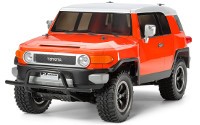 84408
TB EVO 6 Black Version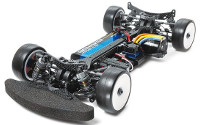 84409 (47326)
TT-02R Chassis Kit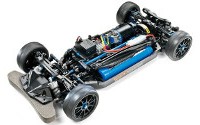 84411
Toyota FJ Cruiser CR-01 Chassis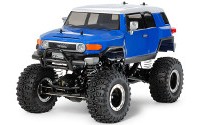 84412
TB-04R Chassis Kit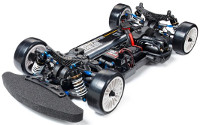 84416
Grasshopper Black Edition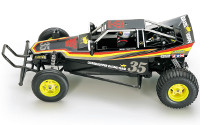 84418
TT-02B MS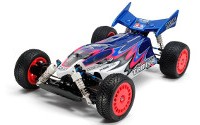 84421
DB-01RRR Chassis Kit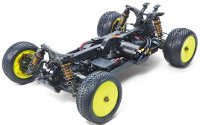 84422
FF-04 EVO Black Edition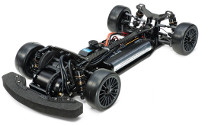 84424
M-05 Ver.II R Chassis Kit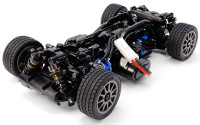 84427
TB Evo 6 MS Chassis Kit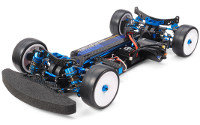 84431 Porsche RSR Type 934
Jagermeister 40th Anniversary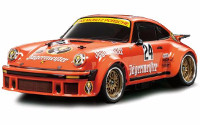 92000 series
Even though this series is one of the oldest still in activity (it probably started back in 1988), it doesn't look to have been much used by Tamiya. Several models also seem to have been made upon special request of some national distributors: caution though, this is an assumption based on some models, not a confirmed fact.
92001 Road Wizard Footwork
Complete Kit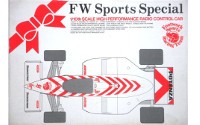 92018 (+ 93007)
The Grasshopper II Super G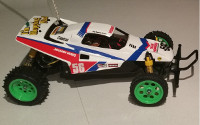 92163
Taisan Skyline GT-R R32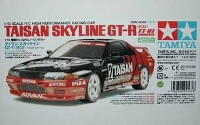 92177 Mini Cooper Racing
with Union Jack Sticker M-03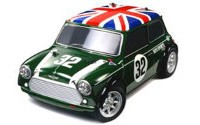 92180 Suzuki Swift
Super 1600 Light Body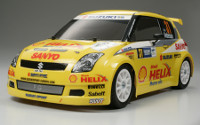 92188
Mazda RX-7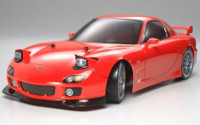 92193
Honda Civic SiR EG6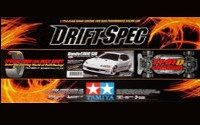 92200
Castrol Celica 94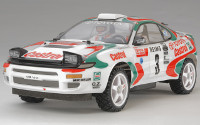 92201
XB Castrol Celica 93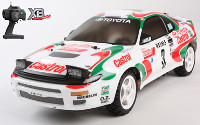 92203
Mitsubishi Lancer Evo IV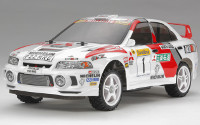 92204
XB Mitsubishi Lancer Evo IV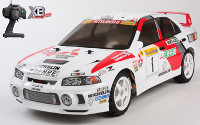 92206
TB-03 Drift Spec Chassis Kit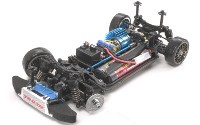 92213
Datsun 280ZX Sports Version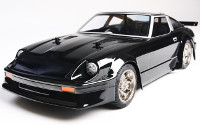 92217
TA-05 Version II Chassis Kit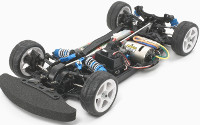 92228 M0-5 S Chassis Kit
S Spec Silver Style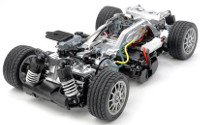 92229 (+ 49377)
TA-03F PRO Drift Spec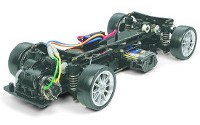 92243
TA-06 PRO with Upgrade Pack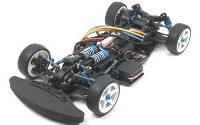 92359 Jimny SJ30 Osaka
plastic model 50th Anniversary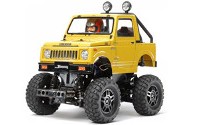 92360 XB Jimny SJ30 Osaka
plastic model 50th Anniversary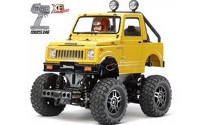 93000 series
This series is quite old too, and not often used either, despite several recent models. Again, it is hard to determine what makes these models special and why they are numbered in this series.
93007 (+ 92018)
The Grasshopper II Super G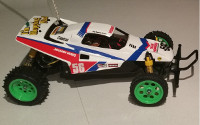 93029
XB Mitsubishi Lancer Evo X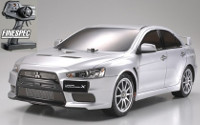 93031
Super Fighter G Black Edition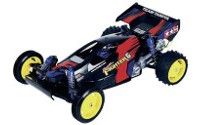 93033 F104v2 Pro
Dark Titanium Chassis Kit w/ Body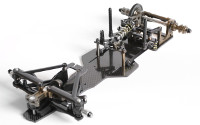 93036
Lowride Pumpkin White Edition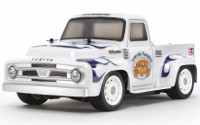 93042
Ferrari 458 Challenge Drift Spec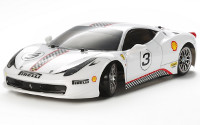 Last but not least...
Among all the models listed in this article, two of them caught my attention.
The first of them is the Grasshopper II Super G: of course, I knew about its existence but the information I had collected so far was suspiciously blurry about its exact reference. And yet, after more digging, it appeared the kit existed in several versions:
58074: normal version not "Super G"
49501: Mabuchi 540 motor + yellow rims + yellow friction dampers
49501: Mabuchi 540 motor + yellow rims + yellow hydraulic dampers
49501: Mabuchi 540 motor + green rims + yellow friction dampers
49501: Mabuchi 540 motor + green rims + yellow hydraulic dampers
92018: Mabuchi 540 motor + yellow rims + yellow friction dampers (only in Japan)
93007 : exact content is not confirmed, presumably, it would be the 92018 japanese version but for export
All these versions were released at about the same period, that is between 1988 and 1990. Anyway, such a "chaos" in the references and contents is exceptional for Tamiya.
The second model that caught my attention is the ultra-rare 92001 kit: I think it is the second limited RC item after the ultra-rare Black Porsche 934 RSR that was released to celebrate the first 100.000 sold units of the first RC model from Tamiya.
The 92001 kit is a special edition of the Road Wizard that was presumably sold only in Japan. The box in Footwork (FW Sports) livery is an over-package containing a standard Road Wizard box with 2 lexan bodies, but the JPS sticker sheet is replaced with a Footwork sticker sheet (Canon and Tamiya Motorsport sticker sheets are still there). The Footwork box also contains one complete Futaba Attack FP-2NBL radio set, one Futaba MC112B electronic speed controller, one white paint spray can for lexan and the Tamiya 5515 pack (quick charger + 1200mah NICD battery pack).
Alright, now the full story about this special model:
Before it became a Formula One team at the beginning of the 90's, Footwork had already been active in the Japanese F2 championship (and later F3000) during the 80's. In 1987, the Footwork car driven by Aguri Suzuki finished second at the All Japan F3000 championship before winning the championship the following year. The limited "FW Sports" Road Wizard edition celebrates one of these results: either the second place of the 1987 championship if the kit was released in 1987 as we believe, or the 1988 championship victory if the assumed released date is incorrect. In both cases, the Road Wizard kit evolutions (Lotus 99T and Williams FW11B) were already released when this special FW Sports edition was released, meaning that Tamiya "recycled" an old kit to make this promotional item.
To better understand this model, you need to remember the context at the end of the 80's: back then, Formula 1 was the ultimate automobile discipline. All over the world, and in Japan probably more than anywhere else, F1 drivers were seen as living heroes. In addition to this, the Japanese manufacturer Honda was involved in F1 as a motorist since 1983, but from 1986 to 1991, Honda motors won every F1 world championship: the F1 craze is at its peak in Japan. In this context, young Footwork team driver Aguri Suzuki finished second of the Japan F3000 championship behind Kazuyoshi Hoshino, the best Japanese driver of all times. Because Kazuyoshi Hoshino's career was ending (he was 40 in 1987), all expectations of the Japanese fans were on the young Aguri Suzuki, even more the following year after he beat legend Kazuyoshi Hoshino and won the Japanese F3000 championship. And because the Japanese F3000 championship was the best cradle you could imagine for a Japanese driver pretending to a seat in Formula 1...
Related articles