Story of my collection
Some 20 years ago, back when I was a post-Lego teenager, I started building static plastic models. I spent hours in a room with smells of glue and paint building warships or rally cars. At the time, Tamiya models were my favorites because they were very detailed and still quite easy to build.
When I was 14, I bought a radio controlled buggy to go further, to run a model I would have built. Many assembling hours later, passing some delicate steps, my 4x4 Nichimo Luminous buggy was running!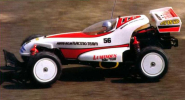 I remember bashing hard with it: risky jumps, mud and snow. The dirtier it came home, the funnier it was. Until many breaks occurred before the final crash: a full speed frontal encounter with an 1/8th scale buggy. Mine simply and extensively exploded: the chassis frame was broken in 3 parts, and parts spread all over. I tried to gather it all, but many pieces just remained lost on the drama location. This was the end of that experience, also because I started to vary my interests.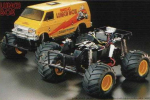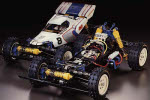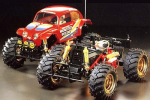 At the time, I was dreaming of other models, but I did not have enough money for them.
The Boomerang was a serious alternative to the Luminous, but I had to choose the Nichimo that better fitted into my low budget.
Monster Beetle and Lunch Box made me dream for hours reading the Tamiya RC Guide Book, but they just remained out of reach for me. Already then, their great look and big wheels were absolutely fascinating.
A 20 year break later, the modeling daemon took me back in 2006. I spent hours reading forums to understand how RC evolved during all those years. It allowed me to better identify what I wanted and also, how much this hobby would cost.
March 2008 update: ow I own the 3 models I was dreaming about some 20 years ago. The Vanessa's Lunch Box is the only one that is not purely original (since mine is a re-released version), but differences are very few. One more thing: NO, I will not try to get a Luminous. Too many bad memories are attached to this model.
Collecting these three models was not my intention when I got back into RC models. It was just a sequel of opportunities and I'm happy with it 

.
Evolution of my collection
Four years after the RC daemon got back into my life, my tastes slowly changed. I rapidly pilled up models before I realized that I was fascinated by elder models: The Fox first revealed this because of its amazing performance for an 1985 model. Then, the XR311 completed this process thanks to both its highly detailed bodyshell and its incredibly realistic handling on the track.
Today (2010), my collection features a few modern models that let me drive them full throttle without risk. Nevertheless, I like my modern models and I respect them: even if I like speed, I hate to break or getting them damaged. Motors I mount are in close relation with my driving skills and I always adapt my driving to track conditions: I always prefer to brake or stop the car instead of forcing and risking to damage either my car or a friend's.
This is the reason why I recently sold some models: I needed room so I sold the models I didn't drive anymore because I already own others that I find more interesting. My goal is to keep modern models in categories I like and to mainly focus on elder vintage models that fascinate me.
Why Tamiya?
There are many other brands for radio controlled models: Kyosho, Traxxas and HPI to name a few of them. And yet, my collection only includes models from the two star company. Quite easy to understand: 20 years after, my come back naturally focused on brands I already knew by the time. Nichimo has disappeared, but even though, I wouldn't have tried their models again.
Moreover, I never drove in clubs or for competition: this is a hobby and I don't want anything more serious. I don't like gas models either, both for the complex engine setting and their lack of realism. This just made me focus on Tamiya.
Tamiya models have several pros in my opinion:
The manual instructions are crystal clear
Product quality (including parts adjustment)
Spare parts are easily available
Highly detailed bodyshells that allow very realistic models
leisure-oriented models
The brand and models wide enthusiast community.
Vintage Tamiya models are highly appreciated for their collectability as well as for the fun to rediscover models people had decades earlier, especially the 100 first models they released. There are communities of enthusiasts all over the world to discuss about these models, to help others restoring or building their models...
Especially there: